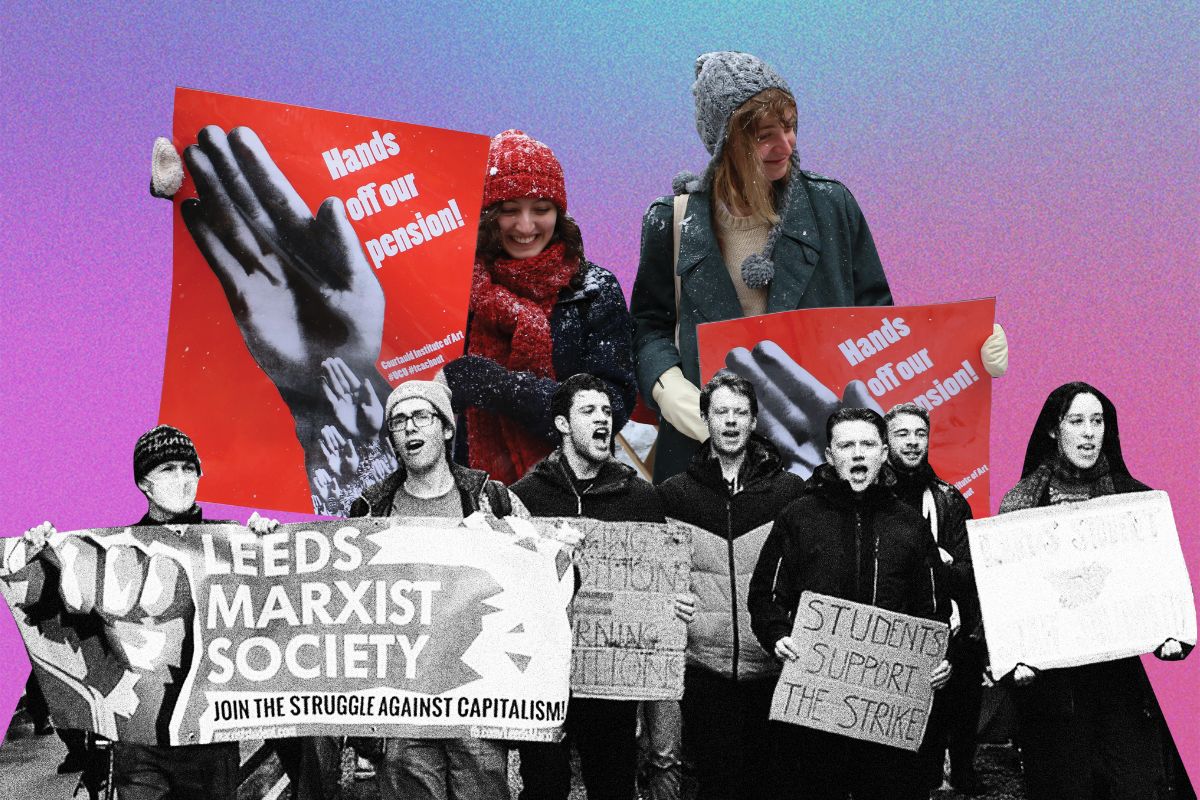 UCU members have begun a marking boycott, as part of their struggle with the employers over pay and conditions. The bosses and the press are using this to sow division between students and staff, but we say we must fight hand-in-hand to kick capitalism out of education!
---
University staff organised in the UCU have begun a marking and assessment boycott (MAB). This comes after the university bosses have continued their attack on pay and conditions following the latest round of strike action.
The decision to adopt this new method of action comes on the back of a gruelling battle with the employers.
As one university staff member told Marxist Student, "we are five years into this struggle, and other than on pensions, the management of the sector seem incapable of making the sector a thriving, liveable environment to work and study in."
The MAB means that students will have to wait a longer time to receive their grades, and reportedly some may never receive them at all. This is not a decision staff have taken lightly. All staff understand the impact this will have upon the students they teach.
Who is to blame?
Let us be clear. The disruption that students are experiencing is not the fault of the staff. It is the obstinate refusal of the bosses to meet workers' demands that is to blame. The bosses could have ended this dispute long ago if they wanted to.
Instead, they are purposefully prolonging the dispute, in an attempt to grind striking staff into submission. And they are quite happy for the student experience to be damaged in the process.
It would be wrong for us students to be pessimistic and paint a sorry picture of ourselves as collateral damage, caught in the crossfire between employers and the unions.
Regardless of what the student tabloids say, this self-pity has no place in the class struggle. Students and staff are both suffering from the bosses' cuts and attacks.
'I'm sick of my future being used as a bargaining chip between unis and staff.' My column on the devastating marking strikes hitting UK universities.https://t.co/gQXdtJe2NZ

— Alice Thomson (@aliceTTimes) May 24, 2023
To give into this would be to play into the boss' tactics of divide-and-rule, by turning students against staff, or at the very least making students indifferent to the struggle.
To fight the bosses' divisive methods, we must actively stand in solidarity with striking staff. Their fight is our fight, and it is only with their victory that the university experience will improve.
Marketisation
Students have never paid more for education, and yet student poverty and the university experience has never been worse. Staff have never worked harder, and yet their pay and conditions have been decimated.
"I don't think I know a happy and thriving colleague," one UCU member told us. "Bosses sit on fortunes, both personal and institutional, stockpiling both, while colleagues are signed off with depression and are being hit by punitive, borderline illegal docking of pay for refusing to mark papers."
It is not a coincidence that these two processes of decline have happened side-by-side. It is a result of the logic of capitalism forcing its way into our education system.
This is not a glitch in the system. Nor is it the product of this or that nasty vice-chancellor. This is the best capitalism has to offer. But an alternative is possible.
Students fight back
Students themselves are also beginning to fight back against the broken marketised education system.
At the University of Manchester (UoM), students organised a uni halls rent strike, and an occupation took place to protest extortionate rent and poor quality accommodation.
These students are now facing attacks from management, who are clearly trying to make examples out of them – to send a message to the students that they will be dealt with severely if they try to protest.
Students at Brighton University have also staged a successful occupation of a meeting of the bosses, in solidarity with the UCU's action. In doing so, they effectively disrupted the dodgy dealings of the bosses, who are planning mass redundancies.
Peaceful occupation of the VC office by @uniofbrighton students to oppose the draconian redundancies! #SaveOurStaff #SaveBrightonUni #BrightonSolidarity pic.twitter.com/L7rMNhmlbk

— PGRs Brighton (@pgrs_brighton) May 25, 2023
What students can do
Clearly, there is a groundswell of anger and resentment among young people at the impact that capitalism is having on education, as well as life in general.
Students should channel their anger into getting organised, and standing in solidarity with staff in their struggle against the bosses.
Though there is no picket line for us to join during the MAB, there is a range of action we can undertake in solidarity with staff.
Students at the University of Glasgow have started a petition demanding that UoG immediately ends its policy of punitive pay reductions for staff, and meets the UCU's demands. This is an example that students at other universities could follow.
Students could pass solidarity motions through their student unions, calling on their SUs to mobilise in support of the workers on campus.
Such a campaign should build towards a mass student-staff assembly, to discuss how students can support the staff, but crucially to raise demands to improve the lot of students as well.
Such demands could include abolishing tuition fees; the reintroduction of maintenance grants; and democratic control of rent and accommodation.
On the basis of linking staff and student demands together with socialist demands, wider layers of students could be won over to the struggle.
These are just a few examples of how students can get organised. But the most important thing is that we put forward a bold programme for the transformation of education, which can bring staff and students together under one banner.
A motion drafted by the UCU Marxists calling for a campaign to 'kick capitalism out of higher education' passed at the recent UCU conference. This means the UCU has officially committed to fighting for the removal of tuition fees; reversing cuts and privatisation; and for staff and student control over universities.
This means launching a campaign alongside sister trade unions and students to:

Reverse funding cuts✂️
Abolish tuitions fees ❌
Kick all private companies and interests off campus 🥾
And run universities democratically under staff-student control, for good and not for profit! 🚩

— UCU Marxists (@ucumarxists) May 28, 2023
This shows the appetite that exists among UCU activists to link their struggle to the conditions that students face. As students, we make sure these words translate into action by linking up with the organised workers on campus.
Kick capitalism out of education!
Capitalism offers no future to workers and young people. It has run our universities into the ground. But on the basis of a socialist programme, drastic improvements could be made.
Tuition fees could be abolished; maintenance grants could be reintroduced, affording all young people the chance to study without becoming indebted; high-quality student accommodation could be provided for free; and staff and students could have control over all decisions made.
This is only a taste of what can be won. But it is only by standing with workers on and off campus – who possess the real power to transform society – that this can be achieved.
This is what the Marxist Student Federation is fighting for. If you are up to the task, then join us in this fight!
We say:
Solidarity with the UCU! Solidarity with the marking boycott!
Students and workers: unite and fight against marketisation!
Kick capitalism out of education!
---
Source:
Marxiststudent.com