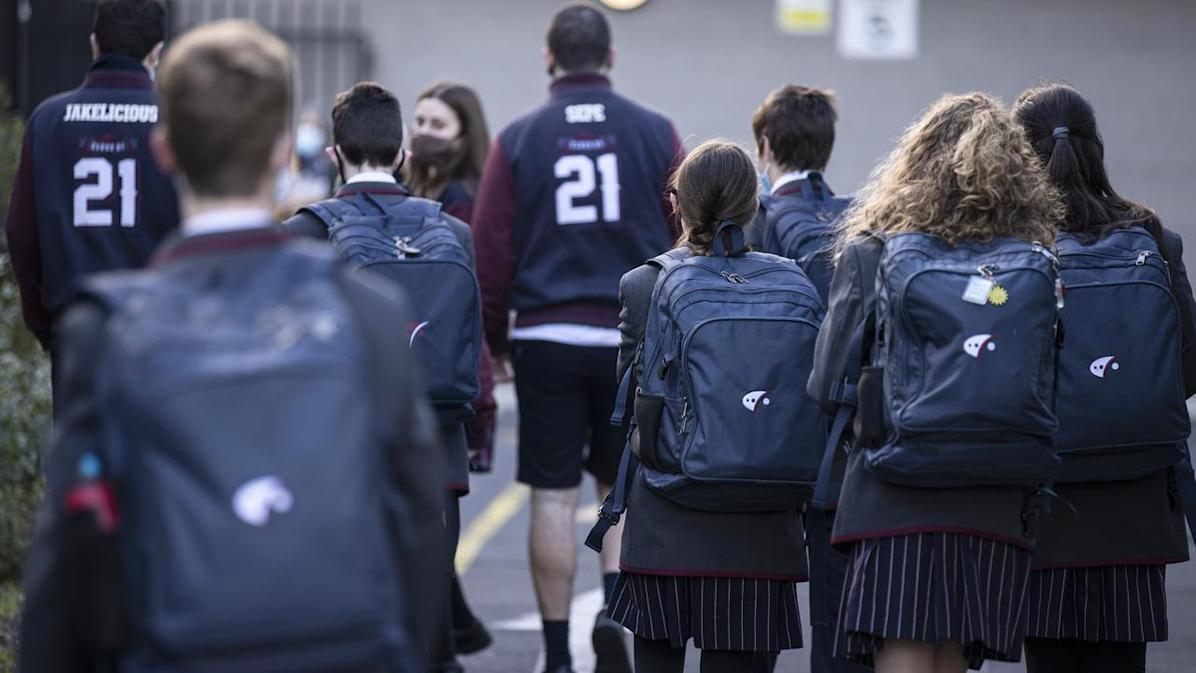 The information I've received is so vague. All I know is that a student attended school with COVID—I don't know whether it was the day of the GAT—and since then year 12 students and their teachers have been instructed to isolate and wait for instructions from DHHS about when they could return to school.
The principal has also written a letter telling us that several junior school students, from years 7 to 10, have had COVID but that it hasn't been serious. We're still waiting to see when the year 12s will be back on campus.
I'm hearing that a lot of the private schools have told their year 12s not to come back to face-to-face instruction, given COVID is spreading widely among VCE students who have returned to school. And I believe 67 schools have already closed due to COVID cases. But we've been told our school is technically not closed. They cleaned the school and allowed kids of essential workers and those in need to return to school.
I'm very confused as a teacher because there was a careful and staged approach to the return to school, where you had certain levels coming in on certain days and so forth. But the plan has gone down the gurgler now. Because they're opening up earlier, they're opening up schools without giving warnings to teachers and students, who are directly impacted by this. To tell you the truth, I'm really concerned.
Have air filters been implemented in schools? I don't know. No one knows. What strategy are we going to put in place with mask wearing? Who is going to enforce it? I don't know. In fact, I don't know anything. And I'm genuinely concerned, even though I'm vaccinated, because I don't know how many students are going to be vaccinated.
This is putting our students at risk. And staff at risk. For older people like me, there's still a real chance that we'll get COVID—even if, I hope, we don't die from it. We can still get really sick. Even people who are double vaccinated can end up in hospital.
I'm concerned about my own health, but I'm also concerned about the health of kids who aren't vaccinated. If we're lucky, 50 percent of high schoolers will have received one vaccine. Young people aren't immune from getting COVID. It's actually a fucking nightmare. And I feel quite vulnerable and nervous about returning to school. The last thing I was expecting was to go back to school this Friday.
It feels like the school management are being told at the last minute by DHHS what to do. So everything's happening quickly, quickly. I don't know why they are rushing when we haven't put air ventilators in and we haven't got a policy about dealing with COVID cases.
And now they're changing the rules. They're not going to automatically close down schools when there are cases. They're going to target specific areas impacted by the cases. And I honestly don't know how they're going to do that. How are they going to demarcate zones in schools? How are they going to ensure that kids who get COVID haven't interacted with the rest of the school community? We have corridors, we have canteens, we have recess and lunch. And in my school, year levels don't have specific areas. They move about everywhere. So how is the isolation going to work? I really don't know. And it's really worrying.
Are teachers going to have PPE? Are we going to be like nurses in hospitals, supervising students who are primary close contacts but are being made to sit exams in-person? Whose responsibility is it? How are schools going to replicate hospitals? There's a hell of a lot of responsibility being put on to teachers in schools. And I think it's ridiculous.
The DHHS is flying by the seat of its pants. The principal is constantly sending us emails saying they are waiting to hear from the department. But they don't disclose how many students and teachers are close contacts, how many have to isolate. That's privileged information.
Under what conditions are teachers going to be working? There's this fragile, complex uncertainty and fear about the students and ourselves being put in danger. Why couldn't they have waited a little longer for students to get vaccinated? And what about these ventilators? The government said they've ordered thousands of them, but have they arrived in schools? They are being implemented slowly, and yet they're pushing us to come to schools earlier without it being made clear to us whether our work environment will be safe.
We're all at risk now. There are 25 people in each classroom at a minimum, so how can we socially distance? How can I socially distance myself when there are 25 students breathing on me? There's talk of having open-air classrooms. How's that going to work? Are they going to set them up on the oval? And charge the laptops there?
Kids can get sick and die. If I was a parent and my child who was under 12 hadn't been vaccinated, there's no way I'd feel safe about them going to school. I'd keep them at home. And I'm sure there are lots of parents who would feel the same. And I know it's difficult to look after students at home while you're working, but their welfare comes first. Always.
Teachers have done an amazing job. We've worked our butts off to create the best environment in online classes. It's been phenomenal. And it's about time that we recognised just how much pressure and how much hard work teaching involves. Much like nursing, teaching is seen as "women's work" and degraded.
All year, teachers and the teachers' union have been trying to fight for better wages and conditions. Now we're looking at striking, because negotiations are failing. Yet there are news reports, which my co-workers are circulating, describing teachers as selfish assholes for fighting over pay and conditions—"Students are finally returning to school, and their selfish teachers decide to strike!". It's disgusting [reporting by the media].
*Name changed
Front line school staff and Dr Greg Kelly will speak at a public meeting about the Victorian school reopening this Sunday 25 October at 5pm, organised by Health Before Profits. Red Flag will feature ongoing coverage of the Victorian school reopening—our first article, discussing some of the main issues is here. For resources on safety, ventilation, schools and organising, check out this compilation.
---
Source:
Redflag.org.au